Salem Aleikum!

DIVING THE RED SEA

It is already 2 months ago that we were in Tanzania and Zanzibar and as we are leaving for Hungary this year in a few weeks it's nice to plan a scuba diving holiday.

I scanned the internet for offers and I found at www.desertroos.nl a trip to Egypt on a liveaboard, one of the few available after the revolution in the Arabic world. George Abraham of Desertroos was very cooperative in booking this trip. Next day was the departure so just after booking it was quite busy with arranging everything and packing the heavy dive gear. And go out to buy a new, thick 7mm wetsuit that was advised by the company. The package was a flight to Hurghada and a week cruise with a liveaboard on the Red sea, including 4 dives a day. A liveaboard is a combination of a ship, a hotel and a dive centre.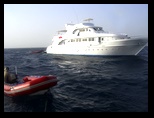 Usually it has a capacity for 12 or even 24 divers. It is a big business in the Red Sea.

The Blue Planet1, our ship, has 4 levels; the top level is the sun deck.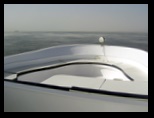 6 huts are downstairs in the hull and 2 more on the third floor.

After I booked I got the information that minimum 40 dives were required. As I have 52 dives, that was sufficient but it pointed to a challenging program. Indeed, most divers had many hundreds of dives.

It was in the northern part of the Red sea and many shipwrecks were on the program.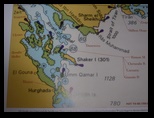 Shipwrecks are fascinating. Every ship has a story and the wreckage as well.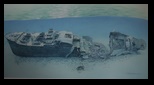 It is a special hobby in the scuba divers world to dive on ship wrecks. First you study the ship, its history and location before you pay a visit to the ship. Nature is quick to re-possess the hull and the ships are covered with all kinds of soft and hard corals and are home to many fish. It must be an interesting experience.

The flight with Transavia was uneventful and comfortable. It was a new Boeing 737-800 with a surprisingly generous legroom for a budget airline. Further you had to buy everything, even water.

Upon arriving in Hurghada airport a uniformed individual at Immigration ordered me to pay a visa, however that visa was part of the package, so I said him I did not need a visa from him, but he insisted. I had to pay 20 euro, but I preferred to pay in dollars, so I paid $20. Later I saw the price on it was only $15. The representative of our travel agency, I met later, was angry, chased the man and demanded back the dollars, in exchange for his visa sticker, that was intended for me. So much for corruption in Egypt.

The transfer with taxi was quick and through a deserted Hurghada, the tourist industry was still stalled by the revolution. We arrived at the harbor next to the Mariott Hotel.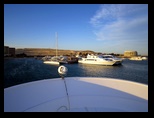 On the boat I met the other divers, 6 German divers that had already checked in. Half of the capacity was over so I could choose a hut for myself. To my surprise I was even offered a meal by the crew. The boat, 12 years old, had just been refurbished and smelled to new paint. Only the saloon was in its original shape with nice oak flooring. The deck was –as usual- made of untreated teakwood, which is very comfortable with bare feet. And with this temperature, in the mid twenties, you have a nice summer temperature, while at home it still freezes.

Al other divers were certified nitrox divers. I had no certification but decided to take the course. Nitrox is an air mixture enriched with oxygen. It has certain advantages, as longer diving time and less air consumption, but specific risks as well, especially on deep dives. You should strictly adhere to certain limitations, and check the mixture prior every dive. Unfortunately the dive guide Ashraf lost the analyzer during a storm, so nitrox diving was over.

Next morning we left the harbor in a nice sunny weather, summer temperatures. Soon we reached an atol type coral reef named Poseidon Garden for the first dive. Lots of interesting fish
and coral were around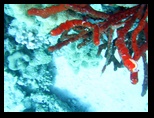 , even with small colorful nudibranch snails. The food was delicious and on the program were further one afternoon dive and a night dive. The sea was very rough, not exactly comfortable. All the divers on board were talented photographers and many pictures on this website are taken by Ashraf, Thomas, Olivier and Sandra, who like to see their pictures on this homepage.

Next day we were waked up at 6 for the pre-breakfast dive. It was nice weather and we enjoyed the rich aquatic life.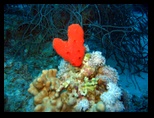 And we did an inspection of the wreck of the Carnatic, a British steamship that was wrecked 132 year ago.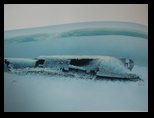 Then we moved to the next location to the wreck of the Dunraven, a few hours later by a third dive on Gaab Mahoud, with wonderful rich coral.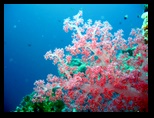 The night dive was the fourth dive, where we saw many fish like this well camouflaged poisinous scorpionfish.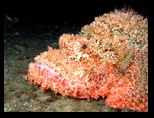 One of us saw shark, and he showed proudly his video of the predator.

Every day we move to another location. Today we got an even earlier wakeup call at 5:30 for a pre-breakfast dive at Rash Muhammet. It is the prime dive area in the Red Sea, sometimes dubbed as the best diving site on the world. It is close to Sharm el Sheikh and the area was lush with soft and hard corals and fish.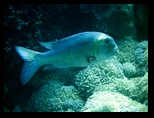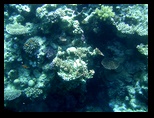 The second dive takes place here as well. Funny is that the ship Yolanda transported toilets and the area is indeed scattered with toilets,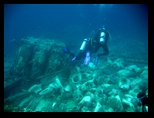 that were new homes for many fish. "My toilet is my castle" they must think.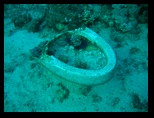 Then we moved to the famous wreck of the Thistlegorm.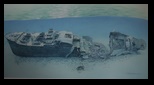 It is a British 9009 ton transport ship built in 1940, which was bombed by a German Heinkel HE-111 bomber on 6 October 1943. It was fully loaded with supplies for Montgomery's army in Egypt. It is still full of bombs, weapons, munitions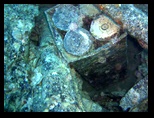 trucks and motor cycles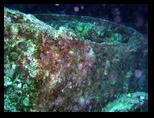 and even trains.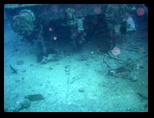 It is a big ship, 110 m long. The current is very strong here and it is only allowed to decent an ascent along a rope that is connected to our live-aboard and the wreck. Don't miss the rope;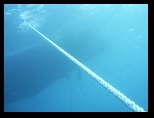 if you miss it, you are carried away further in the sea. And to find you is a needle in a haystack. Especially during the night if your flashlight is running out of power. That happened with my torch; it leaked and stopped working as no electrical equipment can survive corrosive sea water, however fortunately not on this dive. The ship is located in the middle of the sea, without a mark. You only can find it by GPS.

This wreck is very special for me. It featured in Cousteau's 1956 amazing underwater movie "The world of silence" that was imprinted in my memory since I saw it that time. Ever since I saw this movie, it was my wish to do scuba diving and see that ship wreck. So now again an item, of my life's "Still to do list", can be crossed away. And now I'm here, diving deep in the pitch dark inner sections of the ship.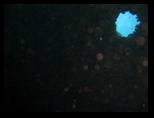 Through narrow doors along motorcycles, cars and boots and munitions all covered with soft coral colorful anemones and greeted by fish that have made it their home, even a crocodilefish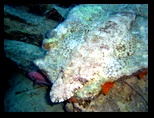 Only the rubber tires are still good visible. It is very spectacular to see tons of bombs and ammunition. It has a certain risk as the chemical components of munitions and explosives change over time and they become instable and even can explode spontaneously. But then you are on the wrong place at the wrong time. Anyhow, you better do not touch anything.

Apart from that, the ship was partly ripped apart due to the explosion and many protruding knife sharp steel parts should be avoided at all cost.

Next morning early is another dive at the Thistlegorm. This time we visit the locomotive 30 meter on the seafloor next to the wreck and the bren-carier, a tracked vehicle.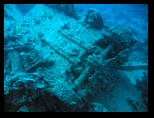 In the stern part we see two crocodile fish, with a beak like a crocodile. They live flat on a surface, well camouflaged.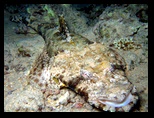 The weather changed; there was a gale blowing, still with sunshine. We relocated to the other side of the Red Sea and during that 2 hour trip we encountered a stormy weather and high waves. The boat jumped on the waves and all that was not fixed moved and even got lost. The stormy weather stayed, but as soon as moored at the location of the Ulissys wreck,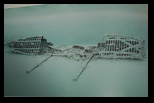 the waves were calm, shielded by the reef. We left for the second dive, to the wreck, which was surrounded by wonderful coral gardens. The trip to the dive location with the zodiac was challenging, high waves and the zodiac almost was launched in a spray of water.

Later that day followed the third dive in the local area around the boat, which was located on top of the wreck of a barge. The barge was populated with lots of interesting fish, including giant morays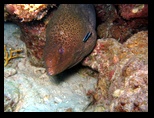 with several colors. The last dive, the night dive was in the same areas. Impressing Murrays, even the small yellow one was spotted.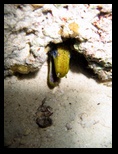 After that we enjoyed, as usual a delicious dinner. The food was definitely of a 5 star hotel quality. The lunch was a complete meal as well.

After a refreshing night we got up early for the wreck of the Rosalie Moller.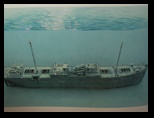 It was downed by the German HE-111 bombers two days after the Thristlegorm. At that time 20 ships were moored for weeks, as a collision of two ships blocked the entrance of the Suez Canal. It is a coal transporter, hit by one bomb and, apart from that hole, pretty much intact. The highest point of the wreck is 32 meter deep, the lowest almost 45m so it is a no-nitrox decompression dive. That means that your blood and tissues collect and contain so much nitrogen that you cannot ascent immediately. If you would do that, bubbles of nitrogen will form, blocking blood circulation and damaging tissues and you end up for days in the decompression chamber in the hospital, if you are lucky. The nitrogen has to be washed out by an extra short stop at 19 m and an extensive stop at 5 m. And you should of course be certified for this kind of dives. For none of us that was a problem, the rest of the divers was very experienced. We descended along a rope in the rather dark and murky water. As usual it was very interesting, and the wreck covered with corals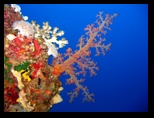 and home to many fish like this poisenous lionfish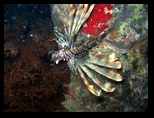 Enormous amounts of glass fish, looking like sardines flocked all over the wreck. Especially if you know the story behind it, a wreck becomes extremely interesting. It must be a strange experience for Rosalie Moller that the ship named after her is a shipwreck. On the other hand her sister ships, named after other family women ended their life on a scrap yard. Rosalie Muller will generate excitement for generations of divers to come.

After the dive we left again for the Siyul Kebira island. It was a lovely and easy dive. Not deep, so the sea full of colors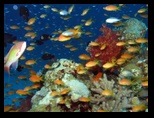 . This dive lasted 63 minutes and still plenty air available for another half hour. Shortly after that the third dive of the day in the adjacent area. It is a white coral sand area with coral formations of lovely colors and shapes. We see all kind of fish like the blue ray
and a small white moray.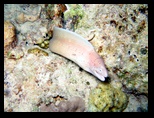 Then the anchor is lifted for the next destination. It is Dolphin House, where we do the night dive. A big surprise is a giant moray that is hunting. Normally in daytime they hide in crevasses or under rocks only the head visible. Further it was a nice white sandy area with isolated coral formations.

Next morning was the last diving day, only two dives today as there must be 24 hours between the last dive and the flight, to avoid the feared decompression sickness. Well at 6 o'clock we were waked for the pre-breakfast dive and dolphins have been sighted. We got the instruction to move and make bubbles as if you are static, they do not want to play. Today about 6 of them were in the playing mood, moving elegantly around us and making clicking noises.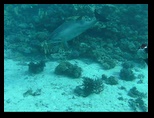 It are big animals at least 3 meter long and moving quickly around.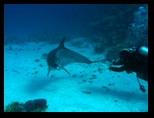 They come very close but do not stop. It is an awesome experience, meeting wild dolphins in their own "home".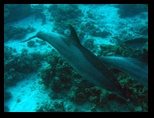 The location is Shaab el Erg or Dolphin house.

The ship lift anchor for the last dive location, Shaab Iris. It is a nice place for the last dive. Not too deep, around 13 meters and nice coral formations in white coral sand. We see a big octopus, so good camouflaged that it is hardly recognized.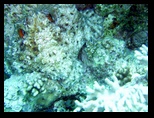 The big red eyes are the best visible. The octopus can change very quickly of colors, and does that especially if he is angry of so much attention so close to him.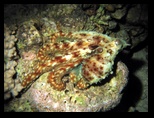 After more than an hour the diving holiday was over. Only we have to sail back to Hurghada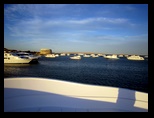 and wait then more than a day till the scheduled departure of the flight back to Holland.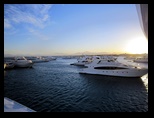 Hurghada does not look very inviting, so I decide to stay on the boat. Hurghada is a new concrete tourist boom town, and can accommodate some 30.000 tourist in big apartment buildings that are usually of attractive architecture. It is just another new tourist centre without an old town as a core. The harbor is full of dive ships and liveaboards, waiting for better times to come. Though the revolution had no impact in this region, the tourists stayed away. A revolution has its price and the guys on board still were very proud on what has been achieved. The crew of this boat is another week without tourist, so hard time for them. They were very helpful and we thought they deserved a generous tip, as we had all the room for ourselves. No surprise as there was more crew than guests.

The last day my German friends left in the morning. Their trip was organized by Thomas von Active dive in Ettenheim, Germany: http://www.activedive.de (info@activedive.de ) Thomas, Olivier and Sandra made the most beautiful and spectacular pictures and had no problem to publish them on this website. Thanks Thomas, Olivier und Sandra! Dive guide Ashraf Hassanin (ashrafhassanin2004@yahoo.com) made as well some wonderful movies of the magnificent creatures of the Red Sea, They are included as well.

The flight back arrived at scheduled landing time in Amsterdam. That arrival time however was 2 o'clock in the morning, so far from convenient. I took some hours before the first train departed but time was used to work on this story!

So an end to a wonderful diving holiday on the Blue Planet 1. I've seen a lot and learned a lot, got my certification for Nitrox and had a very enjoyable time.