Click on a picture to enlarge
The pictures you see after clicking on the small thumbnail pictures, are shrunk to 5% of their original dimensions

If you like to see a picture in full glory, send an email!

For pictures click here
Back to Homepage
\
JAMBO!

Jambo! Is Hello in swaheli,the language spoken all over Eastern Africa, you hear it all day in Tanzania and Zanzibar and that make you feel welcome in this wonderful country. People are polite and friendly, often you hear Karibu, welcome.

Since Mariska is 5 years old, we have to stuff our family holidays in the school vacation holidays. That means peak season and that was a problem for our scheduled vacation to Tanzania and Zanzibar.

Tanzania has an interesting past. The first hominids were walking here four million years ago and this area can be considered the cradle of mankind. Numerous fossils have been found. The original population in the last millennium was closely connected the San and Bushmen from the Kalahari Desert and they are considered the carry the oldest genes. The area was –usually partly- colonized by many countries and adventures, like the Chinese, the Arabs, Portuguese, Germans, and last the English till 1962.

The Arab occupation of Zanzibar lasted in the last century. Zanzibar was instrumental in the slave trade. They were traded by the Arabs and mostly transported to the American Continents. The end of the British colonization half a century ago was the start of a kind of African Socialism and as all socialisms do, the country was ruined, the economy came to a grinding halt, despite the country has at many locations a perfect climate, often fertile soil and easily access to markets. When the forced socialism stopped, the economy of the country took off again and is now in a reasonable shape, at least compared to some years ago. Still the population grows faster -thanks to modern medical knowledge- than the economy so Tanzania is now poorer per capita than ever. Around the city many try to survive with a kind of simple business in a messy environment, littered with plastics. The majority of the population seems to live in a shack with a corrugated steel or dried grass roof. One driver noted that the situation in Kenya is much better. He attributed that with education. Primary and secondary education is free in Kenya and expensive in Tanzania, so out of reach of the poor people and that is by far the majority of the population. An interesting sign is that around the city many building projects were abandoned. That is no positive sign.

Zanzibar, mostly a Muslim island, forms since 1964 a federation with Tanzania. Tanzania is 40 times as big as The Netherlands and has 40 million inhabitants. It has more than hundred recognized languages and just as many ethnic groups. Swahili is used everywhere as is English, but apart from that every tribes has their own language. Famous are the Masai usually in their red colored traditional dress. The men always carry a thin wooden stick. You see them everywhere but you are not supposed to take pictures.

Special is that the giant wild reserves like the Serengeti, have no fences. The wild animals roam where they like. The plan was to camp many nights in those areas. It has definite risks involved, as the wild animals will roam around the tents and you are supposed never to leave your tent during the night. Discretely armed rangers take care for safety.

On our scheduled departure day on Amsterdam Schiphol Airport there were a record number passengers scheduled for the Christmas Holiday period. The days prior our departure Europe was hurt by a severe winterly conditions, train schedules in the emergency mode and thousands of passengers stranded at the airports. More problems and snow were expected, so the day prior departure we carefully watched the weather and the cancellations of flights and trains. So we took another extra hour to have a better margin and did the check in on internet to save time. Next morning, indeed some snow was added. The train however brought us in time to the airport and an incredible chaos developed there, as even for the baggage drop off you had to wait for an hour. We had ample time however and waited some hours for the departure.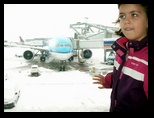 The flight with a Boeing 777-200 with KLM was enjoyable only after I could change for a seat with more legroom. The rest of the economy seats have just room enough for pygmies.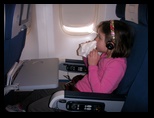 The plane was almost half empty as many passengers could not make it in time to Schiphol, as most connecting flights in Europe were cancelled due to the weather.

After a problem free eight hour flight we landed in the dark at Kilimanjaro Airport in Northern Tanzania, the temperature was a comfortable 25 degrees C. The truck was waiting and we arrived after an hour drive in the moonlit countryside over bumpy roads we arrived in Arusha. The Impala-hotel was in the luxury class with a swimming pool and we enjoyed a refreshing sleep.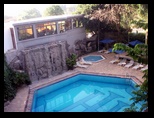 After a perfect breakfast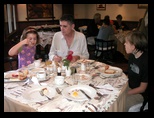 we boarded the truck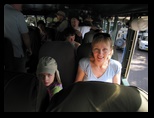 and left for a giant supermarket.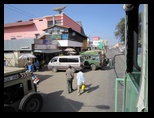 The ATMs we tried were all out of order so we had to use the cash we took with us.

Arusha is a big town with all the chaotic activities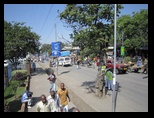 you can expect in a Central African state.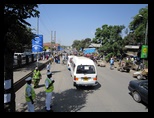 After we left Arusha we travelled through a rolling terrain,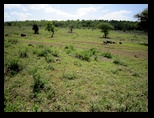 sometimes brown as erosion exposed the deeper layers, sometimes pale green. It was sunny and warm. A savannah type landscape started to dominate.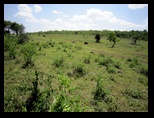 It was only used for cattle, sheep and goat all guarded by Masai.

After a few hours driving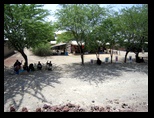 in the lovely weather we arrived at our destination,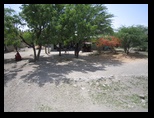 a camping in a village, Mto Wa Mbu. We would stay here for two nights, to get accustomed to the camping gear and the rhythm of life. A nice swimming pool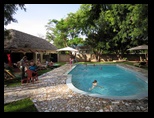 was the major attraction, as were the vendors of art and artifacts. We bought quite a lot of traditional art.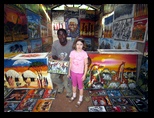 The sales people were complaining about lack of sales,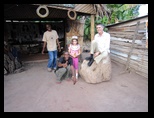 as they always do, and that offered opportunities for good bargaining. The food was excellent; it was prepared by the cook and his assistant and was just very tasteful. You were supposed to assist in cleaning the dishes. Mariska enjoys the trip,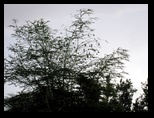 but she gets increasingly worried about the stories of the dangerous wild animals.

In the evening we were entertained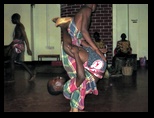 by music and dance group.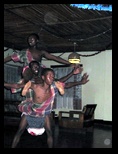 On the program next day was a cultural trip on mountain bike.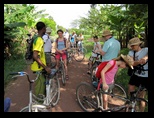 First we went to the Manyara Lake that was partly dry due to lack of rain. In the acacia forest, trees have dangerous sharp spines, especially for bike tires as one of the participants experienced 3 times. We met Masai with cattle. The cows had all strange and large scars,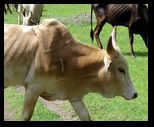 usually made with a knife, to identify the owner. As always Masai were guarding the herd. But as usual you are not supposed to take pictures of them, but it's no problem to make pictures of the herd.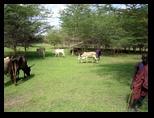 The herd was here as only here was fresh green grass, at the end of a long period of too dry weather.
Soon in January more rains are expected. Those last for 4 months and is now eagerly waited for. But for now we enjoy the comfortable weather.

From a distance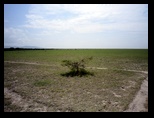 we could see a big group of hippos,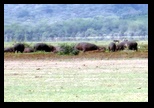 a very dangerous animal. They were in close range to zebra's,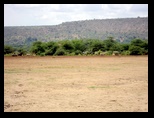 Thomson gazelles, gnus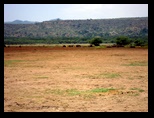 and many other animals that seemed to live in peace and harmony.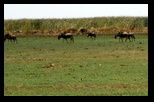 It was too hot for predators like lions. They were retreated in the bushes and may be looking through the leaves at a distance to us.

We biked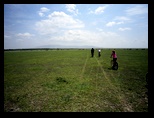 to the edge of the dry lakebed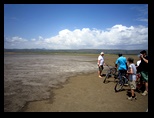 and saw a big marabou, behind a little boat left behind.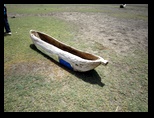 At the horizon thousands of flamingos were visible.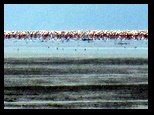 Zebra's were all around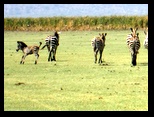 , gnus as well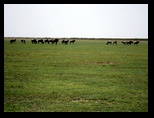 . The lake is a salt lake and the salt is natron, or soda, the same mineral that is used in the kitchen. Flamingos thrive there. The lake was many times as big during the heavy rainfall in 1998. It flooded even villages around the lake. We found a skull of a Wildebeest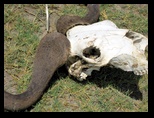 and Harry put the trophy on his mountainbike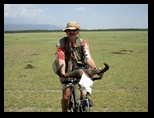 After the trip to the lake we crossed again an acacia forest with lots of monkeys. The Masai shepherds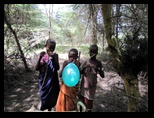 were still there again it was a good opportunity to hand out some balloons and pencils,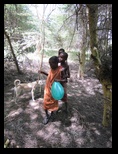 in return I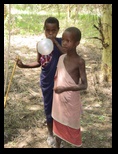 could make some pictures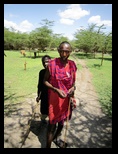 of these tall and proud people.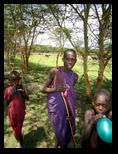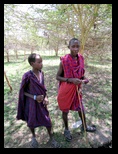 Then we continued our way, en route to a banana plantation.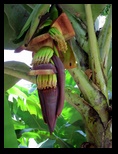 We were briefed about the culture, the many varieties of bananas and how they were used.
There were many mango trees and jackfruits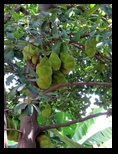 as well.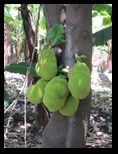 They asked some two and a halve euro for a very big ripe jackfruit. However you should know how to eat them as parts are poisonous. One kind banana was especially grown for banana beer.

Then we biked to a kind of simple restaurant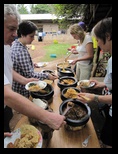 where an old lady produced a lunch consisting of many dishes,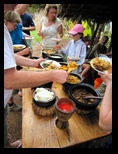 all delicious, with many a kind of tropical fruit as desert.

After this copious lunch, the next visit was to a banana beer brewery.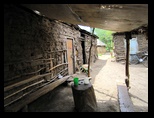 Every of the 120 tribes have their own recipe. The brewery was located in a few dwellings of mud chunks kept in place by wooden stcks.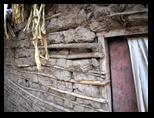 The complex procedure of making beer was explained in detail and we were offered some beer. They use the juice of ripe bananas let it ferment for a few days and add dried and milled sprouting of millet. Then after a week the brew is ready, covered with a foamy layer,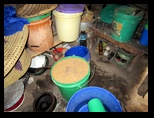 that should be blown away. It was stored in a big plastic bucket. We were offered to try it and it tastes quite refreshing. It is usable for two days, after that it becomes too strong. The banana's here are special as there are so many different kinds of bananas. In Europe only on kind is sold, the Cavendish type and may be some bake bananas of the platan types in specialized shops. Here are the bananas big or small, or even bright red, but all delicious. There is a difference indeed as our bananas are harvested green, to ripen.

Next stop was a gallery of painters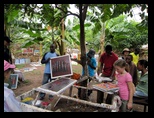 where two kinds of styles were used, one of them the Tingatinga, of which I bought a picture the day before. It takes quite a time to produce these paintings but they sell it for prices that hardly cover the material.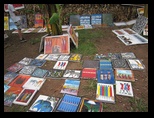 A cunning importer in Europe or the USA could make a fortune on this art.

That visit concluded the program of the day and left some time for swimming or shopping.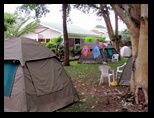 And waiting till the excellent meal was ready again. Or doing some washing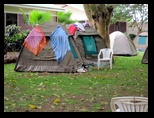 In the evening we were entertained again.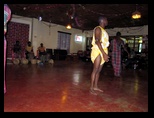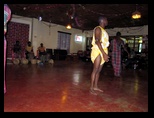 Next day, the third day in Tanzania we got a wakeup call at six o'clock, still in pitch dark for an early start. We dismounted the tents, packed all in the truck and after breakfast we left for Serengeti, a 7 hour trip.

First we climbed the Ngorogoro crater and initially we had a good view on the Lake Manyara,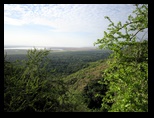 which we visited the day before.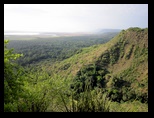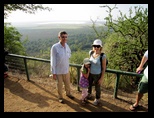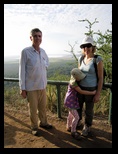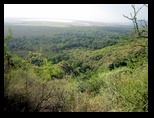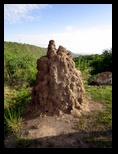 And we saw a termite hill. We passed many villages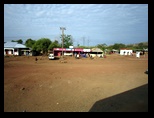 with dusty red earth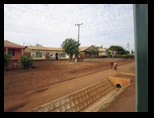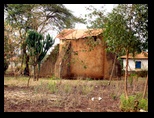 When approaching the Ngorogoro reservation area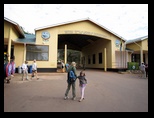 the nature was more of less untouched.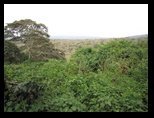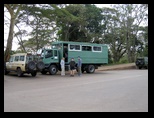 The rim of the giant Ngorogoro crater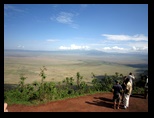 is at 2200m, pretty cool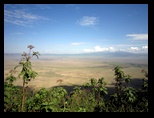 and inside the sleeping crater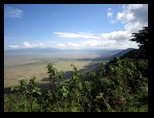 the terrain is 400m lower. The remains of the dormant volcano are gigantic indeed.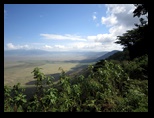 Around it where everywhere smaller volcano's,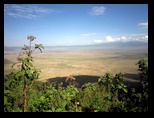 some were bigger end even times the crest in the clouds. The high terrain has plants with giant dimensions and unique to the area. We saw deep in the volcano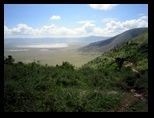 lots of big animals, far away. Probably it were buffalo's.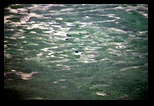 . Later we would visit it.

A highlight of the trip was a visit to a Masai village.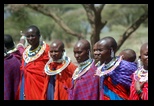 Masai are proud people,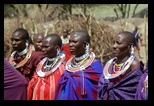 nomads with large herds of sheep, goats or cattle. They have a unique culture. They dress in colorful fabric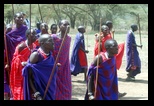 and hide their left arm.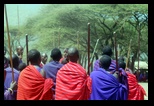 In the right hand the men have a thin stick.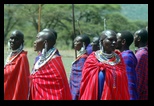 They are legendary people,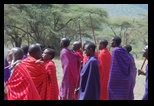 fierce fighters and many legends are about them. Some think they are one of the lost tribes of Israel. Others think they came from the north but fact is that most of them still retain their original lifestyle.

The huts were made of wooden ribs and cow manure.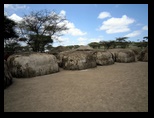 Some 5 meters in diameter and one and half a meter high it was cozy but cramped inside. They showed a dance,
with low humming noises and high jumps. We could participate in it.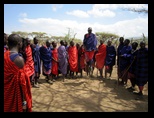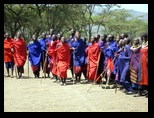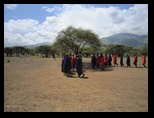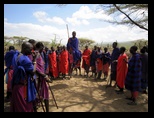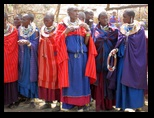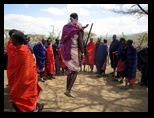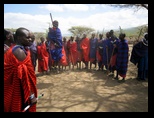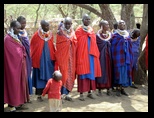 The kindergarten showed enthusiastic children that surprisingly good knew English numbers and words.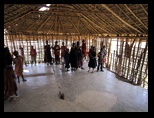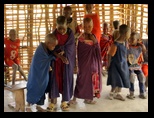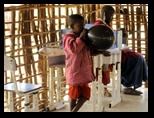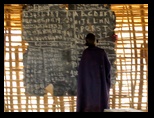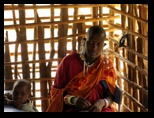 The men liked to sing, dance and jump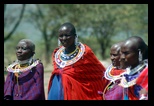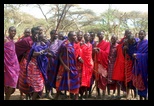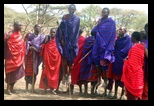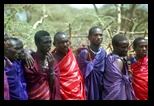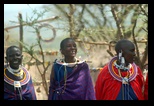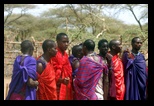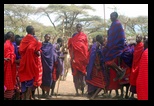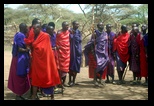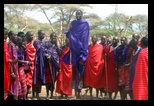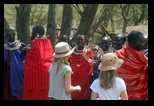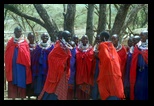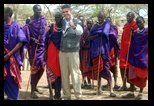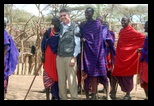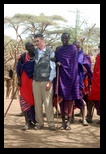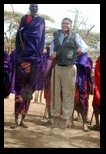 We get a demonstration how to make a fire within one minute.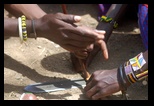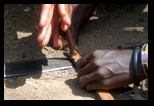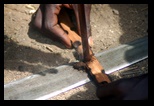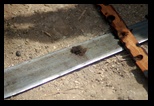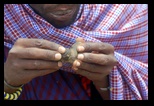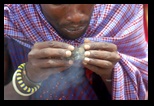 Mariska enjoys that.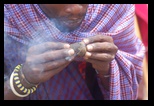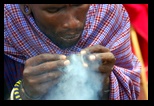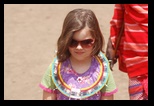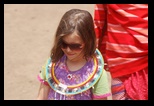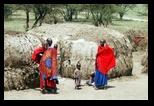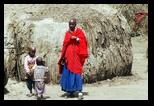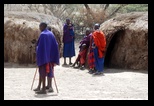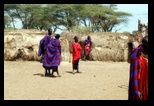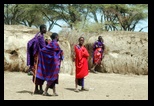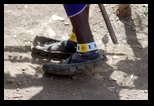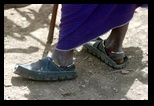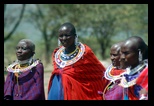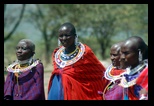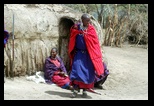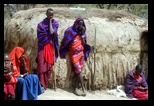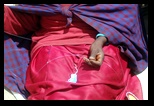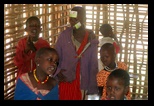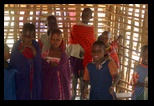 Our truck waited in the savannah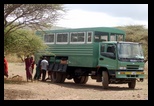 A trip to the market in the centre of the village was as usual interesting and Mariska more or less expects she gets a present and of course she got something. It all made an authentic impression. Usually after visiting elsewhere in the world an "authentic tribe", the actors, as soon as the visitors are gone, change in jeans and uncover the flat screen TV's again, but here was no power at all.

After the visit to the Masai we entered the flats of the national reserves. Initially the herds of the Masai were mixed sometimes or close to zebra's and gnus and even giraffes. Later the Masai herds were more seldom and the wild animals took over the reign of the area. We saw thousands of zebra's, gazelles and wildebeest. Per hour! And giraffes,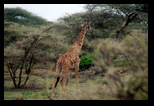 a hyena or two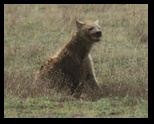 and a jackal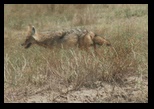 were showing up. And nice birds of course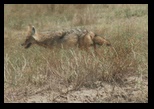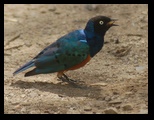 The area suddenly changed in de famous Serengeti, meaning endless planes in Swahili.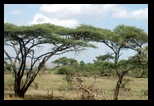 It was a flat area with incredible numbers of gnus and zebra. We saw ten thousands, more likely hundred thousands.

The Serengeti stretches over the Kenyan border in the north over more than 15.000 square kilometers and has no fences. It has very fertile soil, so why was it not occupied by farmers? It was as the area was plagued by the tsetse fly, which brought the sleeping disease to cows and people.The indigenous animals have no problems with the disease. All attempts to occupy the area therefore failed. In fact the Serengeti was saved in its present state by a deadly disease! The deadly disease is caused by a parasite that resides in the brain and makes holes in it. Not treated the disease is always fatal and the treatment can be fatal as well. It still is a problem, but now is discovered that they are attracted by blue colored and now around the campsites are blue cloth with insecticide. It still is advisable to kill any insect that attacks you, and avoid that by generously spraying DEET insecticides.Despite that, one of us got a bite from the insect, that resulted in a big swelling, lasting for days.

From horizon till horizon, everywhere were those beautiful creatures, tens of thousands zebras and wildebeests, some very close to the truck as well. It is an absolutely stunning sight and is a must for everyone to see it. It might be even classified as a basic human right.

We were on our way to the campgrounds so we only stopped for the highlights, like two lioness with four cubs, breastfeeding them. The seemed very relaxed.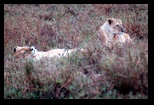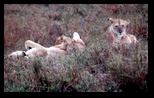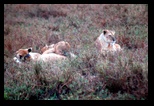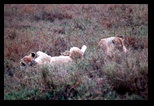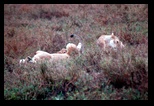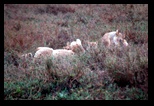 A herd of Hippo's caught our attention. Quite a lot of them were in a small lake.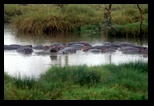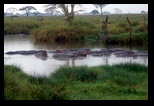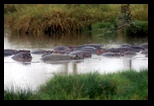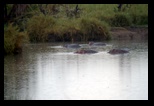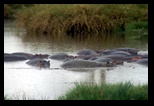 We approached our campsite, it had rained and was pretty cool. And the area was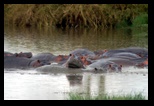 rather muddy. The sky that night was clear and the temperature did sink considerably, due to the high altitude. Next morning we would be waked up very early for an early game drive. As always is the tropics the evening came quickly and we dined in the dark, with minimal lighting. We were supposed not to leave the tent during the night and even remove all edible stuff, to avoid attracting wild animals that roam through the camp. The camp had some cold water and even toilets, quite a luxury.

The Serengeti is famous for the Great Migration. More than two million zebras, gnus and ante lopes follow the rain and the green grass. The rain start in the south and moves over the half year to the north. The millions animals follow that and migrate later to the south. Some times in the season the Serengeti is empty, now it was full of millions of animals, as far as eye could see. The Great Migration crosses rivers with crocodiles and many are cought while swimming. The great Migration is not exactly predictable as it depends on the rain and other factors. Recently there was not enough rain, so the Great Migration had not started. Lucky for us.

Next morning early we got up for an early game drive. First we saw a gazelle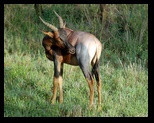 followed by a herd of buffalos.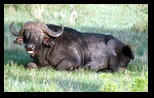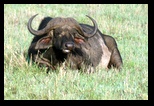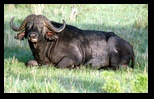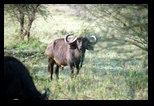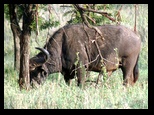 Then a vulture high on a tree,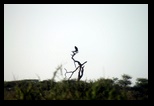 a giraffe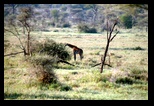 lots of deer and of course hippos. We passed close to the skeleton of a buffalo.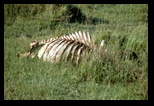 An enormous number of wildebeests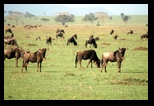 and gazelles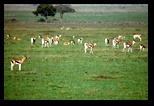 blocked our road. Here were thousands of those beautiful animals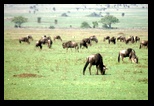 . A big bird
was not impressed of the wildebeest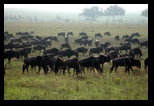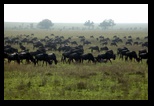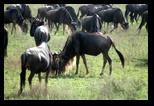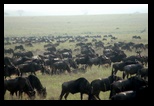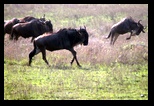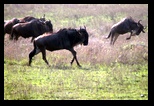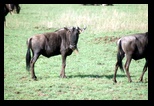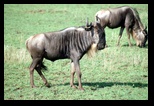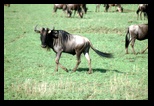 nor was a kind of dove-sized birds, egyptian ducks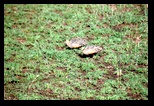 In the distance we saw a hyena,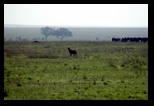 an aggressive hunter, as dangerous as a lion. Some deer crossed our way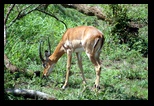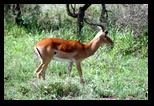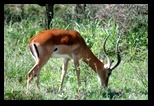 and another bunch of hippos.
Curious monkeys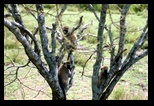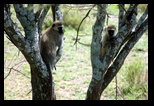 watched us passing by and at last we saw our first crocodile.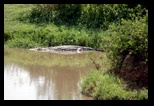 A few birds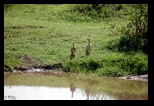 and a giant heron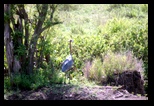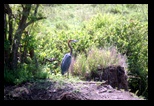 were not worried about his presence.

Nice gazelles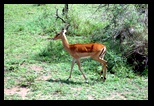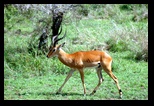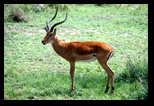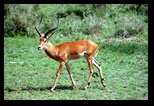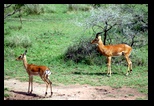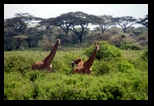 were followed by a family of giraffes, the tallest animal on earth that may reach 5.2 meters high.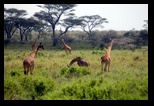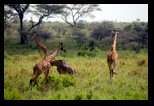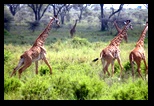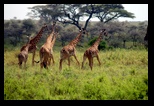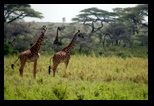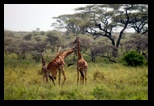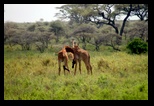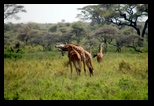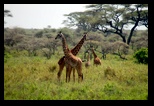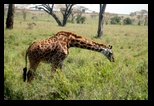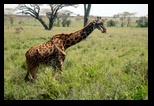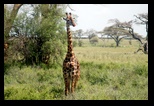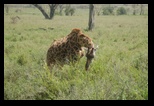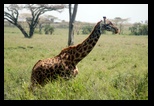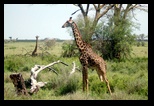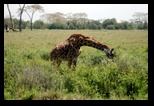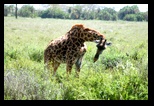 When it gallops it looks like in slow motion.

A giant vulture on his nest was followed by a hyena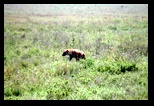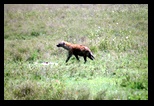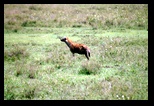 and a wounded young male lion, most likely hurt by the horns of for instance a buffalo. He could hardly walk. When a lion is around, normally you won't see a leopard, as it will not infringe in a lions territory. This time was different as we saw our first leopard.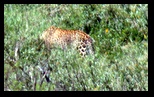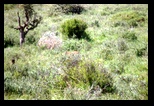 It was ambushing a gazelle or zebras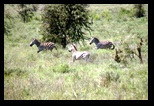 , but not successful. So he decided to climb in tree.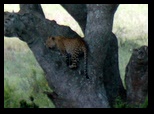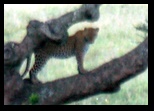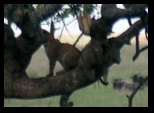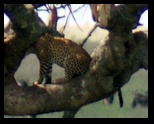 Then we went back to the wounded lion, which was fed up with all that interest in him and he very slowly walked away, like in slow motion.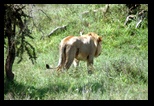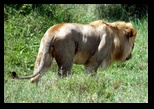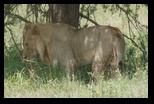 Then we saw again a hyena, this time with a muddy tail section.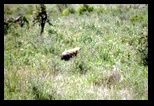 A secretary bird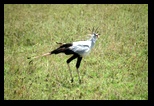 was walking in high style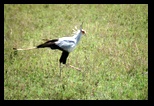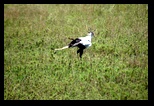 and then we saw in a great distance a cheetah,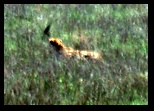 trying to attack a gazelle.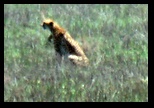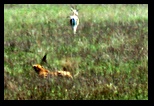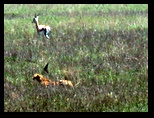 A crested crane was presenting his colors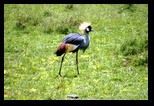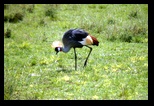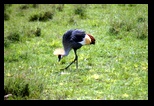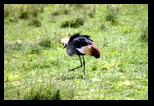 and that was followed by a few interesting birds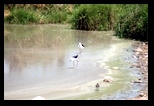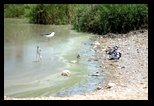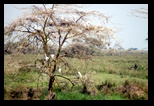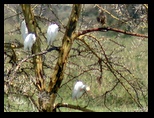 a warthog with young.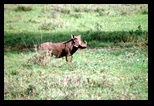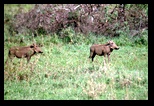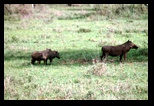 A cactus tree did catch our attention
followed by a red bill stork.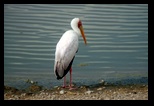 Then it was time to meet again a giant herd of zebras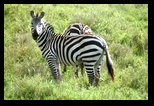 and wildebeest. A jackal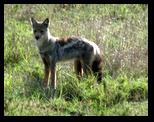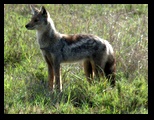 was followed by 3 lions, basking in the sun.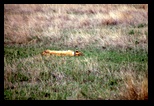 They seem to sleep 20 hours a day, quite relaxed, as they have no enemy daring to attack them.

Zebras are our favorite animals. They never were tamed, look strong and healthy and can defend themselves effectively against lions and other predators. The beautiful, elegant animals are always on the look out for danger and are extremely well adapted for life on the savannah. Zebras can even postpone the birth of the young ones for months, in case there is not enough grass. Others, like the gnus profit from it and like to keep zebras company. Here are some nice pictures of zebras.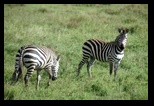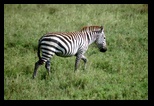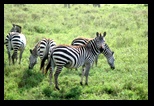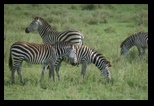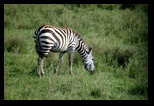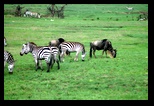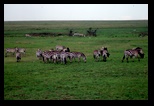 We were in the "kopjes" area. The under layer is granite covered by a layer of volcanic ashes, hardened as cement. The layer of granite and gneiss formed bulbs of molten material long ago and those bulbs are now exposed as erosion carried away the volcanic layer. On these locations the roots of trees can penetrate the soil and the kopjes are not only landmarks, but a place where other animals like snakes and plants thrive. The jackal and the very rare observed Serengeti fox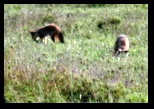 were showing presence and two dikdik,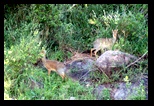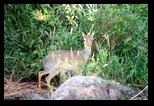 the smallest gazelle. The dikdik,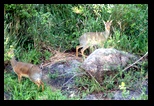 with those big eyes, live strictly in monogamy.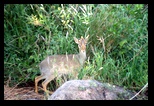 If the partner dies, the remaining dikdik looks for a lion to get killed.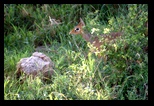 A red blue lizard showed his bright colors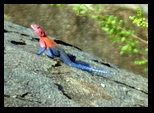 and at last we could make pictures of the guinea fowl.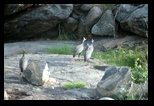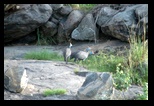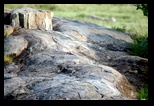 These birds are very special for us as we raised 7 of them in Hungary, 5 years ago. The lions were still there, relaxing in the warm sun.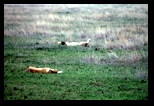 The last surprise was another cheetah.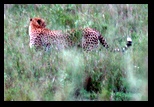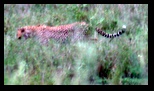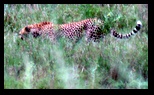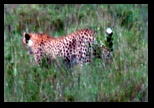 Evening was approaching and we enjoyed the wide scenery with endless numbers of wildebeest and gnus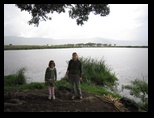 and evening at Serengeti.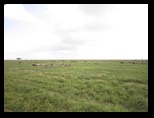 The morning call was early, and it was not easy to pack and dismount the tent in the dark.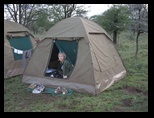 It is quite a job to load all our tents, kitchen tents and equipment in the truck.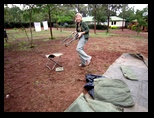 The equipment looks like ex-army equipment, very sturdy but heavy as well. But everybody was ready just in time. Today's trip was to the Ngorogoro crater. En route to that National Park/Conservation area we met a hyena family.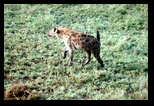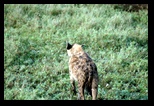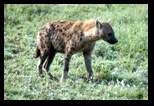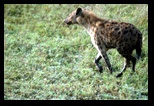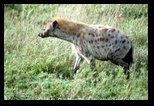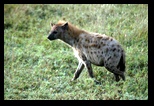 Normally you see them at long distance and to see them at close distance you have to go to the zoo, but later we saw another family, this time we engaged them at short range. Further we saw ostriches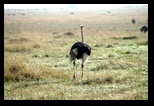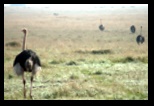 another family of spotted heyenas
and our first elephants.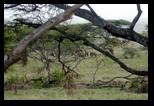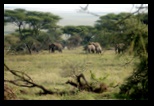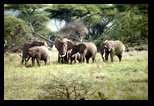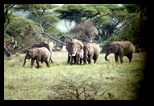 Now we have seen four of the "Big Five", the elephant, buffalo, lion, and leopard; only the rhinoceros was missing. On the side of the road we saw a family of ostriches.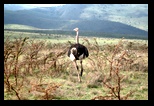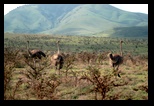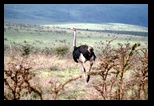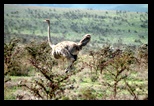 We climbed up to the rim of the crater. Then we changed from our loyal truck to comfortable Toyota Landcruisers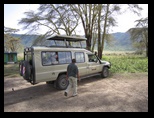 and descended 600 meter lower on a steep road in the flat crater. The first surprise was two male lions basking in the sun.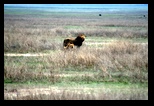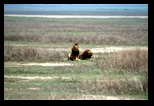 Then we passed an old buffalo.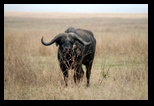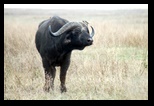 It was a sad old male, expelled as he lost a fight with a younger one.

We passed a salt lake with an enormous number of lesser flamingos.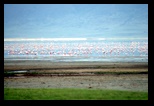 They reflected in the water. Remarkeble there was near the salt lake a zebra, and behind him a sleeping hyena.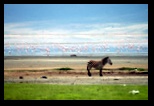 The area was full of white and rose flowers.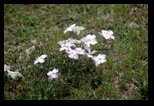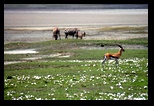 A family of ostriches was picking for food.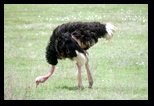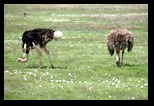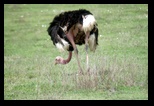 Then a surprise, we saw a giant black rhino, an animal that is seldom seen here, even the guide was delighted.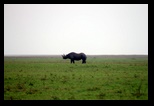 That makes the Big Five completed.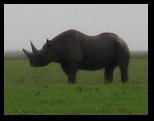 Then we saw an eagle on the ground.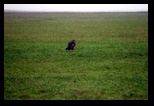 Suddenly it was pouring rain, even with hail. It was too dry, so the rain was welcome. We had a stop at a lake, which got water from the Victoria Lake through underground sources, visible in the lake.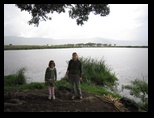 In the lake were of course hippos and many species of birds.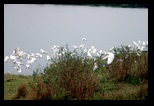 And many nice flowers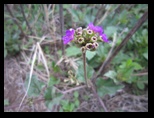 and butterflies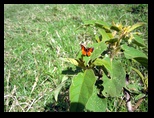 We passed along the skull of an elephant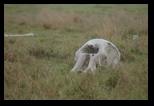 a beautiful bird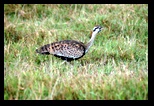 and very far away another sleeping male lion.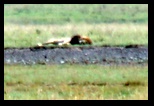 Far away we saw elephants with giant tusks,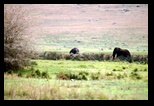 not too far from marabou birds, like vultures they are scavengers.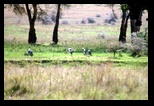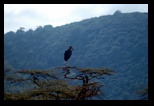 The rim of the crater was a beautiful, a steep mountainside.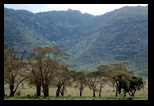 A bee eater was showing its lovely blue colors.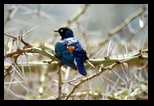 A family of baboons was sitting on a dead tree. A single big male elephant showed its tusks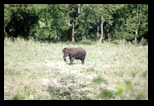 and next was a velvet monkey.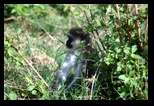 The acacia trunks are impressive.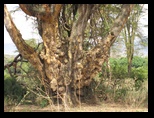 It was time to leave the crater through a steep mud road. The jungle here was impressive.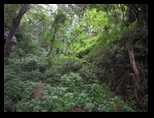 Upon leaving the conservation area we met some baboons.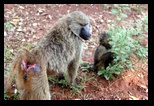 The big ones were really impressive and dangerous.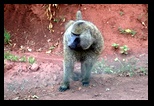 The road changed in a sealed road and after half an hour we approached Karatu, where our camping was.

The crew as already there and had even erected our tents. There was even an internet café; however the connection was awful slow. That night the long awaited rain came pouring down. The soil on the camping turned in a kind of red paint. Everything was red. The clothing that touched the ground, the tents, it was a complete mess. The good news however was that there was water to wash your hands.

We travelled to our next destination, Tarangire National Park. It was here dry and hot and in minutes the wet red stuff from Karatu was dry. Quickly we erected the tents under an enormous baobab tree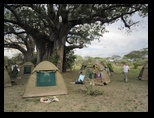 and quickly started a game drive. Our first encounter was a dead giraffe.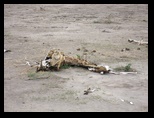 So sad to see such a nice creature passed away. Then we noticed a warthog with her baby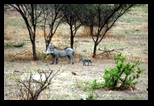 and a redbill horn bill, with a bill like a toucan and common in the area.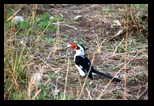 Then we saw a traffic jam down in the valley of the river. That usually means something interesting. We moved in that direction, along vultures in a palm tree.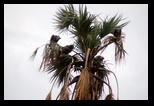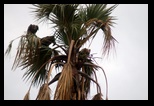 A sausage tree with dangerous 15 kg fruit, that kills you as they can penetrate your skull if they fall on your head.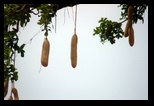 Next was a marabou, a scavenger.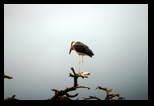 And then….. a lioness near the river! She we not very impressed by us and continued his nap.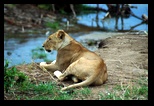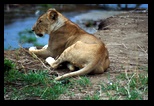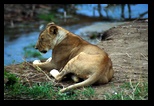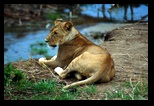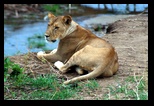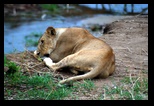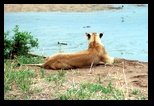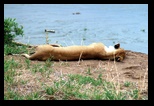 Mariska discovered a nice bird and insisted we should make a picture of it.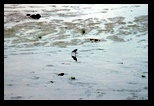 We left the scene again and crossed the Tarangire River, due to the lack of rain hardly a brook.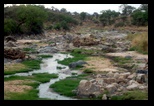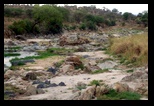 In the area are thousands of very old iconic baobab trees. Elephants like to eat from it, but the trees are survivors and can form new bark. Sometimes the elephants are too wild and even can make a hole in the tree.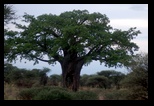 Further the area was plagued by the draught and saw no zebras and wildebeest. Probably they were all in Serengeti now. What remained were a few mongooses.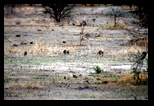 They can even kill big poisonous snakes. There are lots of snakes in the area, but you better do not meet them as most are very poisonous. Then we saw a warthog with his left tusk damaged.

We returned to the camp were the cooks had prepared a delicious dinner, as usual. Rather hardly noticed an armed ranger was dropped at the campsite. They do not take any risk as baboons were close and the camp showed at many placed traces of elephants and even more dangerous animals. It was absolutely forbidden to take any food in your tent or to leave it during the night. You had to pee in a bottle, if required. Next morning in the dark got a wakeup call for an early morning game drive.

A family of warthogs watches us when we passed.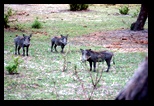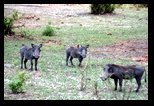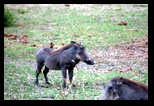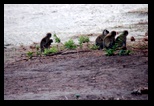 A nice giraffe crossed our way. They are really impressive, magnificent creatures.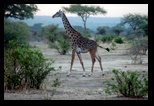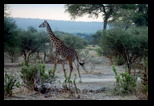 Next was a waterbuck.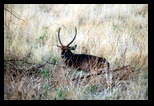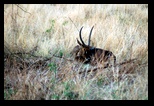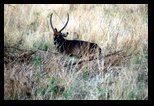 Not too far from him a group of mongooses playing in the dry savanna.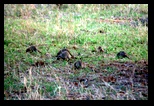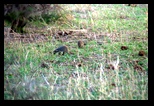 Then we saw again our friend the red-billed horn bill.

Further there was not much to see while driving in the dry area, so now even the small animals on the rocks were interesting.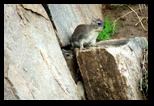 Hundreds of storks were visible.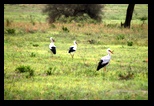 Were there any storks there in Tanzania, which had their nests in front of our house in Hungary? We never will know. They departed from there exactly on the 23th of August, as they do every year, and if the like to be back in Hungary the last week of March, they have to leave here soon.

Then excitement, there were elephants!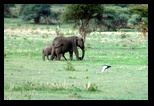 A family was eating leave from trees and playing with the youngsters. When we looked further and the desert-like terrain changed here in vivid green colors and surprise, lots of elephants, at least hundred of the giants. They were willing to pose for the camera, while eating and dusting them with red powder like soil.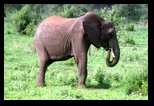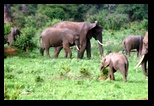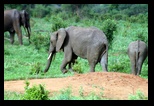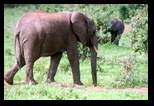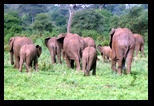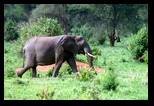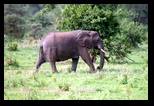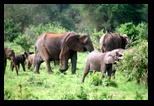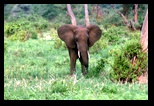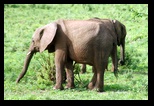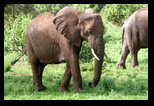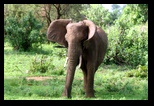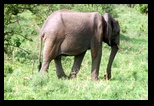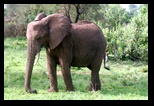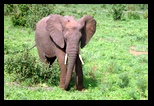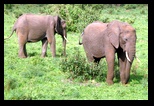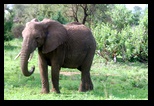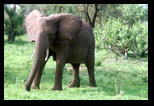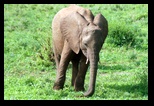 It was time to leave and just in time to see some giraffes, one started galloping, in a strange way, like in slow motion and unlike other animals with both legs on the backside stretched together.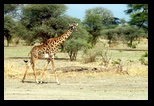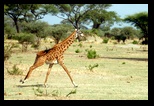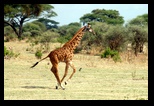 Here some impressions of the landscape in Tarangire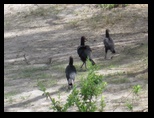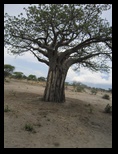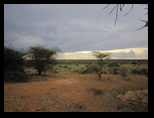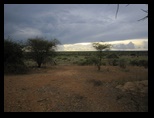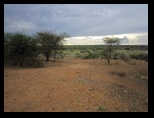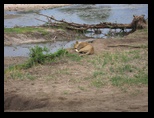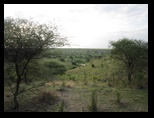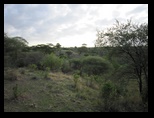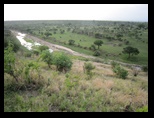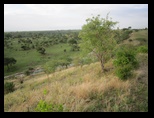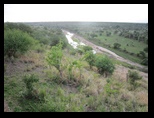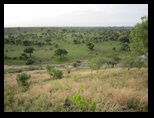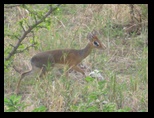 In the evening we heard shouting as somebody found a black scorpion in the tent. In the morning we saw a giant beetle.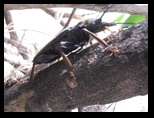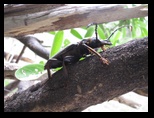 It was time to pack again, to take a picture of our group under the giant Baobab tree, and next destination was Arusha, in the Impala hotel to recover from the hardship of camping.
We made a stop in Mto Wa Mbu, could visit the market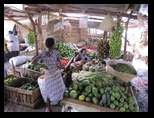 to sniff the atmosphere and buy fruit and Masai jewelry again. Some last pics of Mto Wa Mbu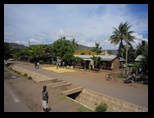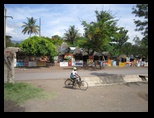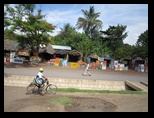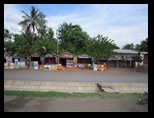 Then we visited a snake farm, where we were greeted by a lovebird.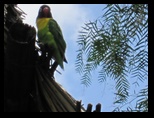 and we saw of course many snakes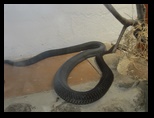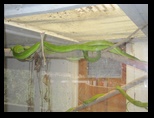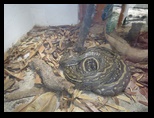 and young crocodiles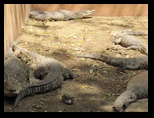 Those who like to fiddle around with wild animals could get a harmless snake around the neck.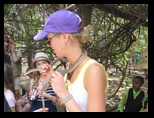 In the Impala Hotel we had a surprise; we got an enormous suite high in the hotel,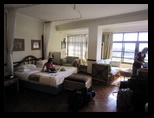 with a nice view over the surroundings. Mariska said she would like to live here.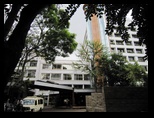 We enjoyed a nice meal, had the opportunity to swim and could do everything at ease as we would depart next morning to Moshi, famous for the Kilimanjaro, only a few hour drive from Arusha.

Moshi is at the foot of the almost 5892 meter high Kilimanjaro extinct volcano with brilliant white glaciers on the top, by far the highest mountain in Africa. As it towers 5 km over the surrounding territory, it is the highest free standing mountain in the world. In Moshi we would stay for 2 nights. The campsite was cramped and nice rooms were available for $50 per night, so it was not difficult to decide to leave the tent packed and move into that nice bungalow.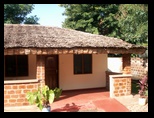 . The facility was highly environmental orientated, but that meant only no hot water, no working wall power plug and one small lightbulb.


Mariska however wished to sleep in the tent but this time she had to conform to her parents. Lots of activities were offered, like a one day walk to halfway the Kilimanjaro for 170$, roughly a half year income of the average Tanzanian. We decided to go for a swim in the pool of the YMCA downtown, in somewhat murky water. We travelled in a daladala, a minivan with 20 seats, of course cramped,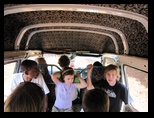 but shortly later we would experience that it even could be worse!.....

On the way back we could see a glimpse of the Kilimanjaro, the top covered in white glaciers.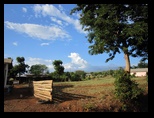 Today is the last full day in Tanzania, with an interesting program. First we travel with 22 persons in a Toyota minivan that theoretically could seat 20 children or pygmies, but we were totally squeezed in each other. Complements to Toyota about making a car, that apparently tolerate such an overload, especially if you consider that the roads were mostly unsealed roads with boulders that sometimes scratches or even bumped the bottom. We climbed up in the lush tropical forest that surrounded the Kilimanjaro mountain complex. Those high mountains create their own climate. A boy showed a chameleon, but the intention was to be paid for that.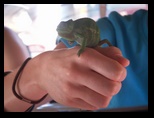 First destination was a Chagga museum.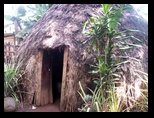 Chagga lived here for half a millennium. Later they were attacked by the Masai, especially in long periods of draught that regularly occurred and could last for 5 years. The Masai lived then down in the flat terrain that turned into a desert and they considered all the cattle in the world as their property. The Chagga lived with cattle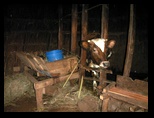 comfortable in with dried grass covered huts, protected against snakes by pineapples.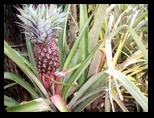 The museum showed lots of weapons and tools.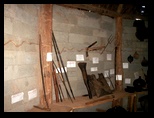 Later on the day we would visit the defensive tunnel system of the Chagga.

But first we had the coffee tour. It proved to be the hut of one of the guides,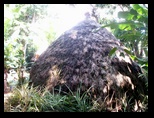 located very remote on a muddy bumpy path. A short story about a few coffee shrubs around the shack and then a demonstration how the coffee is prepared by removing the coffee beans out of the sweet red coffee berries, then dried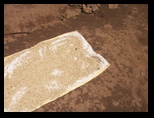 . Then the process is finished, they told by cooking, but they meant roasting of course in an open metal container, and grinding to a very fine powder in a mortar (vijzel in Dutch).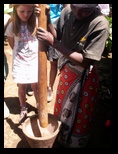 We could buy coffee for 10 USD per kilo, many times the price we pay in Holland, so real fair trade coffee or alternatively rip off coffee.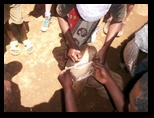 In the mean time children were begging for pencils, balloons, generously offered by Mariska and even money. Remarkably is that in coffee producing Tanzania only instant coffee is used. Are we doing something wrong to insist on fresh grounded coffee?

After we were stuffed again in the overloaded Toyota minibus.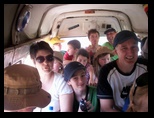 The next destination was the tunnel system of the Chagga. It was a well designed system with smoke shafts, air shafts and places where the enemy was killed in an ambush.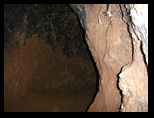 In the night the bodies were disposed of in the river through a one and a half kilometer tunnel. The main tunnel was 4 km long and enough room for cattle, weapons, storage and living rooms.

After squeezing ourselves again in our steaming hot Toyota again, many sitting on each other lap or hanging against the door, we bumped over a dirt road to the main road leading to the Kilimanjaro National Park,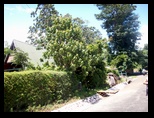 the starting point of a climb to the Kilimanjaro. We are at 1980m high and here the climbs start. A guide who holds a record of climbing the Killi explained all the routes. More than 12.000 climbers reach the top each year, so it is a real business.

We had lunch there and after that we went to a high waterfall.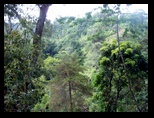 We could reach the waterfall through a long and steep path, sticks were offered and those were a good help. We could swim in the cold but refreshing water.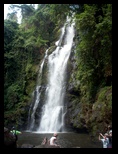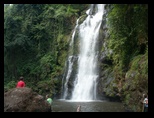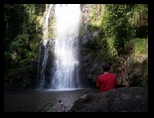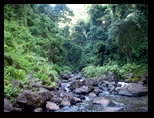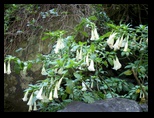 Beautiful wild daturas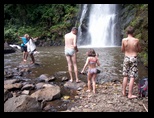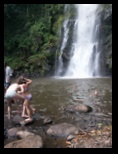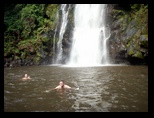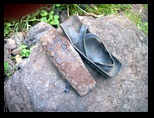 Interesting those motor tire sandals!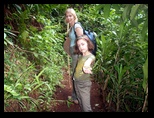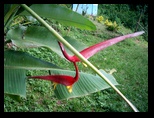 Great Strelitza

It was our last day on the African continent and we celebrated that at a pub with some local refreshments. The Kilimanjaro was good visible and towered high over Moshi.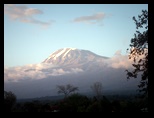 Our last night in Tanzania was there and we packed for our flight from Moshi to the island of Zanzibar. The island is roughly 100 km long and 25 km wide. The flight was with an impeccable ATR-72 from Precision Air, with more legroom than the KLM Boeing 777 wide body.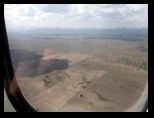 Precision Air is a subsidiary of Kenya Airlines. First we could see the arid area from the sky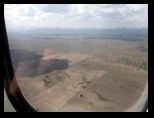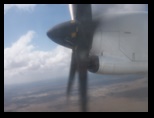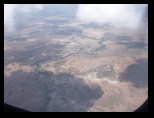 When over the sea, we saw many beautiful coral reefs and atolls in the crisp bleu ocean.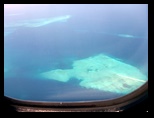 That promised something for a scuba dive experience.

The flight was uneventful and we landed end of the morning on Zanzibar with a temperature of 32 degrees and increasing.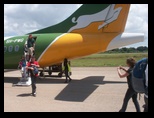 On the oven hot platform were 3 Italian wide bodies unloading and shortly after that boarding almost a thousand passengers. It was the most chaotic situation we ever experienced at an airport. But somehow we managed to collect our baggage and get onboard of our transfer bus to Nungwi, at the northern point of Zanzibar. Zanzibar is mostly a Muslim country as a heritage of the long during cruel reign of the sultan of Oman who was deeply involved in the slave trade. He effectively did catch people from the mainland to sell them as slaves.

On Zanzibar was a heat wave and while the men wore comfortable T-shirts, all muslim women were dressed in layered clothing only exposing face and hands. Poor women to be tortured like that in that steaming hot climate! The street view of Zanzibar was the same mess as in rural Tanzania, though here we were often halted by police. We arrived at the Amaan hotel over an incredible narrow and bumpy road, only to find out that we were in the wrong village with a hotel with the same name. Next try was more successful and the Amaan hotel here was indeed classy. Nice bungalows with fan and air conditioning and hot water. Here was a shop with prices you would definitely refuse to pay in Manhattan and an hour slow internet was expensive as well. Downloading the email took an hour. When almost completed we got the usual power interruption, so I gave it up. We walked to the nearby village for a shopping tour and the prices were not indicated, so most likely we were charged a different price than the locals.

We went to the dive school to strike a deal with the owner for a diving and snorkeling trip. Next day we were early at the dive school to fit our gear. The dive gear new, for the instructors at least. Our dive group consisted Of 5 divers, 4 of us were enrolled in the Discover scuba course. The intention is that you really go under water after a thorough briefing. The others were snorkelers. We sailed for one and a half hour on a traditional wooden dhow boat to Mnemba atoll.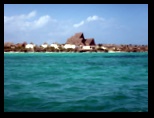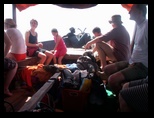 The divers jumped in the water. The four Discover Scuba divers went down with Chilean dive instructor Sandra who has a job as a rock singer in the band as well, and I, as a certified diver, with buddy Mbwana. The first dive lasted 46 minutes and I had still plenty air to use. We saw lots of interesting fish like lionfish, stonefish and moray and million fish of other species.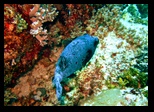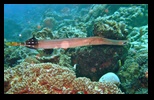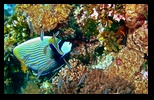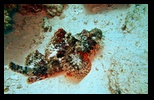 Loads of pipe fish were swimming around, I never have seen so many. The dive novices all managed to go to 12m deep end were wildly enthusiastic. So were the snorkelers. After an excellent lunch we went for the second dive and this time we saw again a great variety of fish and coral. Coral was usually in shades of grey and brown. The trip back was two hours over wild waves, some one and a half meter high. Regularly the guests were sprayed by seawater. Two times dolphins showed up.

Back in the compound of Amaan bungalows we enjoyed the incredible beautiful beach, with fine white sand, the whitest and finest we have ever seen. After that we had dinner. In a fishermen's village you eat fish of course, but with mixed feelings as those magnificent creatures as tuna and barracuda should swim in the ocean.

After a refreshing night in our air conditioned room, we woke up early for a spice tour. Zanzibar is famous for its spices, once the majority of the cloves and nutmeg came from here. We travelled this time with a comfortable air conditioned taxi, a trip of more than an hour that gave an impression of daily life in Zanzibar. That spice tour guide was very informative. He started with a tree with a kind of very small starfruit, tasting rather sour and that was used in the traditional Zanzibar kitchen.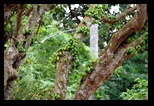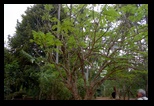 Then some curcumas plants were show, the roots stained yellow as paint. The breadfruit was shown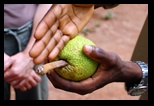 and we were informed how they were used. Interesting was how the cardamom was grown.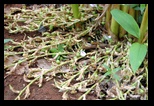 If the green seedbulbs turned yellow, they were ripe. Then red bananas,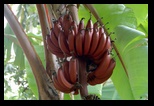 a nice flowering spice with the same taste as cardamom.
Then vanilla was shown, one of the most expensive spices in the world. If the beans are ripe they turn brown and display that distinctive vanilla flavor.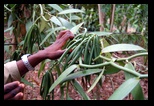 We then came across an avocado tree, with no ripe fruit.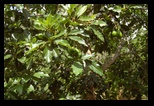 More interesting was the papaya tree.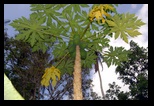 What looked like a rambutan tree was effectively a lipstick tree.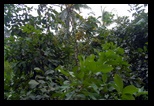 The fruit, the bright red soft layer around the seeds, can be used as lipstick. Lovely aromatic lemon grass was next.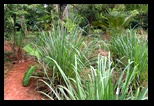 The henna plant, that produces the skin paint or hair color was a modest shrub, when the leaves were rubbed, they released the pigment.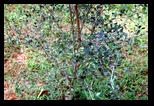 We passed a domestic small pineapple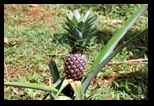 and next were the big jackfruits, bigger than the stinking but very appreciated durian.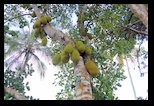 Then the iodine plant that used for treating wounds.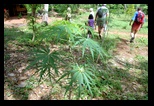 Very special was the nutmeg, in a fruit looking like a yellow apple, and packed in the very aromatic red mace (foelie in Dutch), sold usually separately.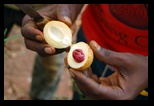 When grinding nutmeg, we never realized that it grows in such a colorful way. Lime was next.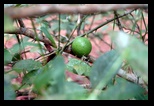 Then we saw a strange fruit, called Zanzibar apple.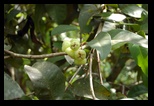 A big kapok tree just had released some big seed with the fluffy content, traditionally used in pillows, including mine, long ago.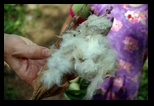 Then was shown how the custard apple grows, well known from the delicacy shop in Europe.
Last but not least was pepper. It grows as a vine, climbing in trees and the green and red fruit tastes wonderful hot and spicy for those who like that.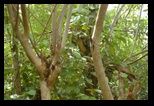 Then we noticed a very small tree frog, that in shape reminded us to the famous tree frog of Costa Rica, this one was however as small as a fingernail.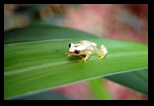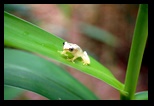 Mariska got some presents, a frog just folded from palm tree leaves and a ring.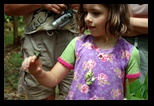 We got a container made of palm tree leave and a crown of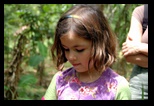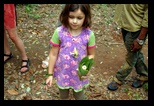 similar design. We ended with a nice flavored cinnamon tree. The bark, fresh cut was very aromatic.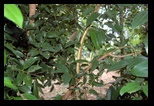 The guide mentioned that many herbs and spiced have a medical role as well, even up to induced abortion. But all were incomparable more spicy and aromatic than the spices and herbs we buy at home. At the end we got a host of fruit like the best mangos, pineapple, passion fruit, papaya, young coconut we ever tasted.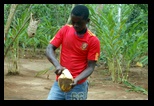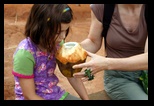 The last item was the commercial part; we had the opportunity to buy a host of herbs and spices for prices that would be insulting in high end shops in London or Paris. But it is of course very tempting to buy the wonderful fresh herbs and spices, so we did! And is there a better form of Fair Trade?

It was a well spend visit and next was the trip back to Nu ngwi, but with an extensive detour through Stone Town.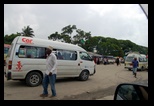 Stone Town is the old capital of the Sultan with indeed many stone buildings with nice facades.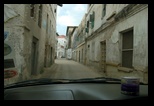 The waterfront is breathtaking.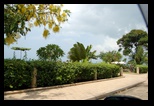 But soon the slums came into sight, were people desperately try to squeeze out a living with a small shop or other business. It was Friday noon, the time when Muslims pray to their god and many men were dresses in a long, usually white long dress. Most shops were closed and a torrential tropical shower accompanied the Friday prayer. When the shower and the prayer were over,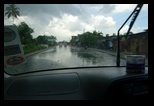 the weather turned nice again and we enjoyed an interesting and comfortable trip Nungwi, and could observe how daily life continued in Zanzibar.

Part of the life in Zanzibar is that the taxi was halted by police or other uniformed officials with an official looking cap many times per hour and after some conversation with the driver we saw sometimes passing some money to the uniformed official. The driver explained that this was normal. If something happens repeatedly, you get used to it. When arriving back in our hotel compound,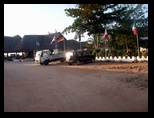 very close to the poverty, but seeming far from it in another world due to the gates, guards and walls surrounding the compound, we were preparing for New Years Eve, with an unusual unbearable 35 degrees, steaming hot atmosphere that chased anyone into the shadow.

At the end of the Afternoon the temperature was more comfortable and we decided to make a stroll through the village of Nungwi. We saw the primitive dwellings and shops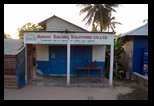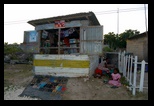 all surrounded by a massive amount of litter, especially water bottles that never will decay.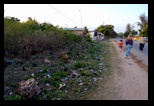 After crossing this appalling village, so close to the finest resorts for foreigners,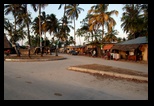 we made our way through more litter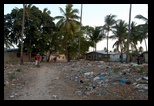 to the beach where a big dhow was stored on his side.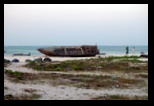 Here as well is that magical white powder beach, in the warm colors of sunset.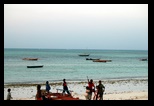 The beach was here used as playground for the locals observed with mixed feeling from the beachside hotel guests. Guards took care for separation.

The locals were as always very friendly.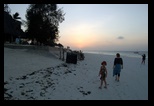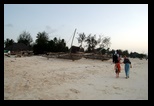 Interesting were the coral stone rocks, which was perforated with holes.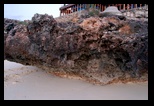 We came back in time for the last dinner together on this holiday. We enjoyed again an excellent meal in an enjoyable atmosphere.
We had to bug out half way the evening and could not attend the New Year celebration as Mariska will not be left alone, not even a minute.

The group of 19 very different persons did fit nicely together and even the children had a great time together, be it that Mariska was by far the youngest but the other kids did treat her well. Tomorrow we well be transferred to Stone Town and then by ferry to Dar es Salam, from there we will fly to Amsterdam

The Last day in Zanzibar, New Years Day we used to carefully pack our luggage for the 8000 km trip back home. The bus that transferred us to the harbor was in time and in a relaxing trip of an hour we reached the harbor of the ferry boat in Stone Town. There a complete chaos developed, which dwarfed the chaos we have experienced at Zanzibar Airport. We had to do useless bureaucratic actions like fill in immigration forms that were not looked at. Nobody knew anything and we were caught in a few hundred meters long queue of thousand people most with an enormous amount of luggage, I dragged some 50 kg. That lasted for one and a half hour, standing in the burning sun. While we were caught in that queue, many people even managed to pass us aggressively, posing a serious risk for Mariska to be hurt. We remembered the torrential showers the day before but that did not happen, now we only were scorched by an unbearable hot sun, while protecting and balancing our overweight on baggage. Mariska had of course the most of baggage of us three, but we had to drag it along our own gear. At last we could enter an overloaded ferry boat on which many passengers just let little children dangerously sleeping on the floor of that overcrowded boat.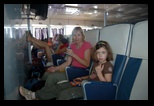 The Australian build high speed catamaran ferry took us in just one and a half hour the Dar es Salam.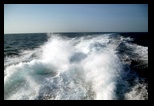 Here the atmosphere was more or less normal. Not that appalling poverty, chaos, violation of human rights and Muslims, but friendly people, definitely much more efficient that we experienced in Zanzibar.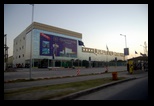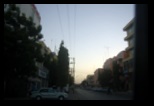 Through the outskirts of Dar es Salam, what looked as a well developed topical town,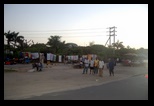 we arrived at the Airport, a well designed building with only few aircraft departing from there. We had to wait many hours, could do some shopping with our last Tanzanian shillings and waited till we could board the KLM Boeing 777 after midnight. The trip was uneventful and after saying farewell to our fellow travelers, we were back home just after 9 o'clock in the morning.

Now started the dangerous part of the trip. The road was partly covered with clear ice and we carefully tried to walk home over the slippery roads with a load of baggage. We managed that without sliding.

At the end of this short holiday, full of events, it's time to look back on a wonderful trip and draw some conclusions. Strange is that Tanzania is mainly and arid country, with many areas that get no rain during long periods, sometimes for years. Only a few thorny trees and shrubs can survive there. That is strange, as all other countries at the equator around the globe have more than enough rain and all are lush green, everywhere. In Tanzania we saw many area's like half desert, with no population and big animals. Other areas like the middle of Zanzibar are lush green. On the other hand, the top part of Zanzibar, further a tropical paradise, looks again more arid, mostly shrubs and low trees growing there.

Tanzania is the darling of the aid and development departments of the developed countries. The advances in medical technology and knowledge of health and hygiene resulted in an explosion of the population, from 10 to 40 million in half a century. However, the advance of the economy did not explode the same way and the income per capita is decreasing year by year and per capita countries like Tanzania are now poorer than ever.

Very obvious is that a small layer of the population uses the classy top level hotels and drives the nice new cars. Is it a bold assessment to assume that the growth of the economy lands with a small and privileged top layer of the population? Corruption seems to be widespread and the density of police and other uniformed officials on the road is startling. Tanzania seems to be rich on oil, diamonds and other minerals, including metal ores and even gold, but to access that much capital and technology is required. And that means relying on foreign companies. Vital is that legal framework allows long term cooperation with foreign investors and the absence of it shows that there is room for improvement.

The Serengeti and Zanzibar are top class tourist destinations and the tourist dollars are very welcome to support the economy. But the key is of course education. The Kenyan example of free education made it a local East African super power and the Tanzanian government may consider transferring funds from the police and other useless bureaucrats obstructing the advances, to education. We wish the friendly people from Tanzania and Zanzibar a great future. JAMBO!
Click on a picture to enlarge
The pictures you see after clicking on the small thumbnail pictures, are shrunk to 5% of their original dimensions

If you like to see a picture in full glory, send an email!

For pictures click here
Back to Homepage
\